Two solutions.
One product.
Get to know the FarmUp solution
A farm operational management application for use in the field and the office, as well as administrative portal focused on data analysis, reporting, and other desktop operations
FarmUp Mobile Application
Designed for Android or iOS (Apple) devices, on Smartphone or Tablet. 

Harvest Log
Enter your harvest data in just 3 clicks. Faster than a pen and paper solution.

Work Maps
With just a few clicks, register the field operations. The app uses the data and creates the assigned team's time sheet.

Access by role
Each role sees and can modify only what it is assigned to do: Administrator, Field Chief, and Supervisor

Analytics Dashboard
Even without Internet, supervisors can see their team's data and averages. With Internet, the information is shared with managers.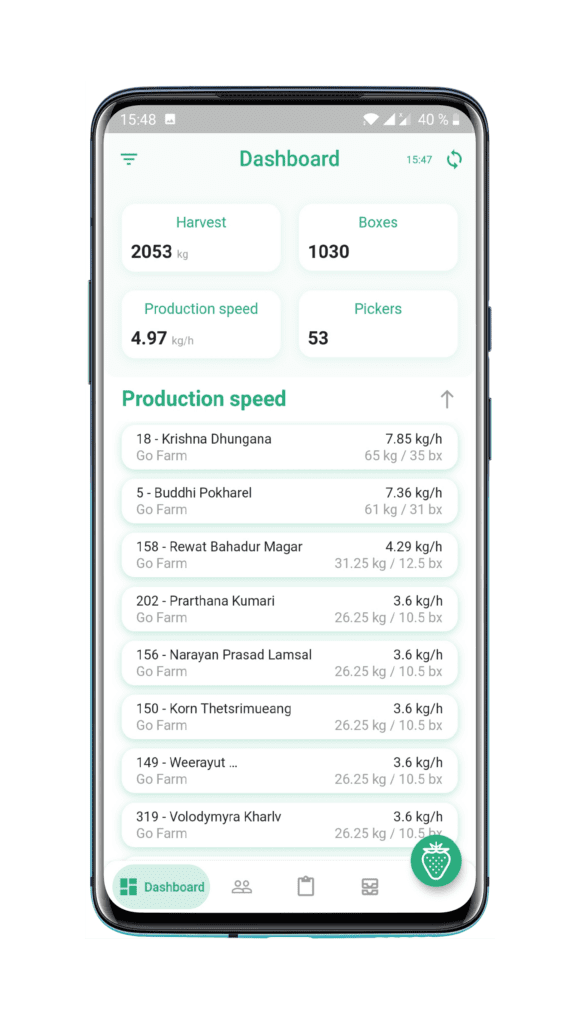 Crop Waste
Record crop residue. Get an historical view of the evolution of your farm's productivity.

Irrigation
Log EC, pH, temperature, humidity of your substrate and drainage. Reliably record your data, perform analysis, and take necessary operational actions.

Time Sheets
Automatically record clock in / out data of your team through your team Work Maps.

With or without internet!
Automatically sync your data at the start and end of your workday. Offline access is possible while out in the field.
Simplified access by computer or tablet. Your data at your fingertips.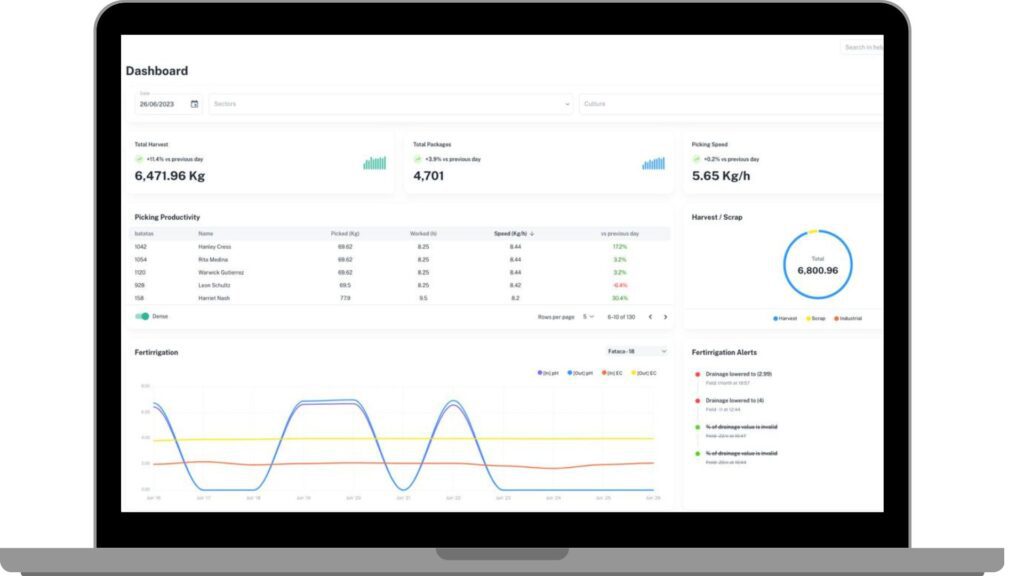 Administration
Add and remove workers, packages and suppliers, adjust harvest awards or amount of irrigators in a section

Reporting & Analysis
Consult the harvest reports, check how much crop residue originated, check the productivity of the team or of a plant.

Hours and Wages
Find out how many hours worked by each member of your team in a given period. Easily calculate wages and bonuses.
iOS and Android applications are available for download. Client login is needed to access it.